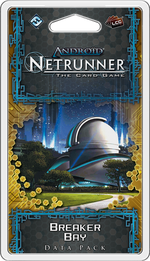 See also the List of cards in Breaker Bay and Breaker Bay category.
Breaker Bay is the second Data Pack in the SanSan cycle.
Announcement
Edit
Breaker Bay was officially declared released by Fantasy flight games on April 23, 2015, just three weeks after The Valley.[1] The article gives a brief overview of the data pack, focusing mainly on how many of the cards give a sense of the set's narrative.
Flavor Insert
Breaker Bay
University of the Californias

YOUR FUTURE AWAITS
Welcome to Breaker Bay, home of the Sharks! Nestled among a pristine stretch of Monterey Bay coastline, our main university campus is over two thousand contiguous acres. Public hoppers are available to ferry students between departmental nodes, but many prefer to take the sidewalks and soak up the beautiful SoCal sun.
With multiple maglev station stops along the main SanSan Metro, our students are never far from the excitement and nightlife of the megapolis. But Breaker Bay isn't your granddaddy's college town, and one can find everything from holoball courts to technillap'u clubs. Check out the AguaGaleria, the underwater shopping plaza where you can come face to face with the creatures of Breaker Bay's marine conservatory!
University of the Californias at Breaker Bay has something for everyone. Upload the attached datafile to your simsensie-capable PAD and take the VIRTUAL TOUR now!
Community content is available under
CC-BY-SA
unless otherwise noted.