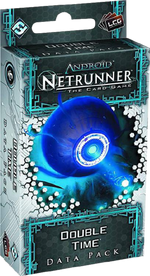 See also the List of cards in Double Time and Double Time category
CONTAINS CARDS 101-120 of the "SPIN CYCLE."
Double Time is the sixth and final Data Pack in the Spin Cycle for Android: Netrunner, and it introduces a handful of powerful Double events and operations. Doubles all require their owner to spend a click to play them, in addition to their normal costs, meaning they're high-risk gambles in a game that's as full of bluffs, counter-bluffs, risks, and gambles as Android: Netrunner.
Still, if you play them right, these Doubles can offer tremendous rewards. In Double Time, you'll find a significant focus on these events. Twenty-one of them are mixed into the Data Pack's sixty new cards (three copies each of twenty individual cards), along with new hardware, programs, ice, upgrades, and more. Will you sacrifice versatility for raw power? It's time to Double down!
Flavor Insert
//>C.H.A.T.
dontmakeme: number one rule of running
prowler_32: ...
dontmakeme: always tie your laces
prowler_32: haha, is that g00ru?
dontmakeme: fakespeare
dinomyte has entered the room.
dinomyte: DINO SMASH
prowler_32: dino!
dontmakeme: what is dinosaurus favorite ice?
dinomyte: DINO HAVE NO FAVORITE, HATE THEM ALL
prowler_32: haha
-wingman- has entered the room.
dontmakeme: johnny boy
prowler_32: hey
-wingman-: they got the queen, it's all over the del oeste feed
dontmakeme: what the frag
prowler_32: port?
-wingman-: I'm on 4z
prowler_32: ++
-wingman-: buncha zealots were there waving signs, but the nappers took her
prowler_32: fraggers
dontmakeme: its not them, its grendel. that crazy bioroid hack had to land on someone.
-wingman-: I think she did it
dinomyte: BIOROID TOO FRESH WITH INTERFACE, DINO HACK BIOROID
dontmakeme: she's just the fall guy, tried to pin the poisoned water supply on her too. can't hack a tin box to override those laws without months of prep and its a new model, had to be an inside job.
-wingman-: yes you can hack it. and she's not that extreme.
the NAPD has entered the room.
the NAPD: All your queens are belong to us!
the NAPD has left the room.
-wingman-: frag off joker
dontmakeme: left before I could kick
-wingman-: they won't be able to keep her locked in
prowler_32: yeah, hack them out, bring em down from inside
dontmakeme: knock over the nappers? hahaha, you guys are loco. just another witch hunt.
-wingman-: you don't know her
the NAPD has entered the room.
dinomyte: DINO CHOMP FAKE FEDS, TASTE GOOD
the NAPD has left the room.
-wingman-: bravo
Community content is available under
CC-BY-SA
unless otherwise noted.