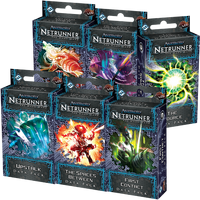 See also the List of cards in Lunar and Lunar category
The Lunar Cycle is the 3rd Cycle, released in 2014 between the Honor and Profit and Order and Chaos deluxe expansions.
Thematically, The Lunar Cycle explores the Beanstalk space elevator that rises from the city of New Angeles near the equator up into low orbit space, and the moon colonies that are reached from the top of the Beanstalk.
The Lunar Cycle cycle also introduced several new keywords & related mechanics - Morph Ice, and the Current Events and Operations. It i also notable for introducing a new identity for each faction, every one of which has a powerful, game-play altering ability.
List of Data Packs
Edit
List of cards
Edit
Community content is available under
CC-BY-SA
unless otherwise noted.