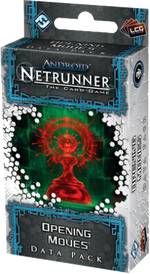 See also the List of cards in Opening Moves and Opening Moves category
CONTAINS CARDS 1-20 of the "SPIN CYCLE."
Opening Moves is the first Data Pack in the Spin Cycle.
Just how dark can a corporation become before it suffers the backlash? Opening Moves kicks off the second cycle of Data Packs for Android: Netrunner The Card Game with a focus on bad publicity, good PR, and daring new gambits for players to undertake in their continued cyberstruggles. Its sixty cards (three copies each of twenty different cards) allow Corps and Runners to explore a wide range of innovative, new (and sometimes dirty) tactics as they battle for the control of highly valuable data!
Flavor Insert
PRESS RELEASE
Rogue Bioroid Murders Employee

Last night, an Erik model bioroid broke into the lab of Gregory Philips and murdered him, then destroyed the lab itself. We offer our heartfelt condolences to the family and friends of Gregory Philips. Philips was a valuable part of the Weyland Consortium family, and those responsible for this terrible act will be brought to justice.
Philips, 39, was a senior scientist at Strata Corp. and was working on ocean preservation. His loss will be deeply felt by all who carry on his noble work. "He was tireless," said Dawn Hu, his colleague of over ten years. "He was a joy to work with."
The Erik 3M4D8N bioroid is currently being detained by the NAPD. The model was programmed to do routine janitorial work, and comes with Haas-Bioroid's highest security seal. Strata records show that maintenance of the model exceeded the standards of the Android Control Act. The Weyland Consortium has taken all Erik models off of active duty until further notice, and redoubled security worldwide. "We will review all security and safety protocols," said Henry Gale, VP of Personal Safety. "This will not happen again."
Weyland Consortium is already cooperating with the authorities to aid in the investigation of this terrible crime. We hope that Haas-Bioroid will implement tighter controls on its more advanced products, and that the NAPD will hold responsible those who are to blame for this unfortunate incident.
FOR IMMEDIATE RELEASE
Bioroid Unfairly Blamed for Murder

1400 Thursday, the 23rd
Haas-Bioroid deeply regrets the death of the Strata Corp. geologist, Doctor Gregory Philips, but would like to assure the public that its bioroids are completely safe. Dr. Philips was murdered in coldblood, not by a bioroid, but by radicals associated with Human First. Haas-Bioroid has turned all evidence of its investigation over to the NAPD.
"The Erik model bioroid is incapable of violence," said Evie Anderson, head of Product Development at Haas' Silicon lab. "This was an act of terror."
All evaluations of the Erik line have exceeded legal safety standards as set by the AEHAA. Haas-Bioroid's proprietary security protocols are the industry standard, and its bioroids are employed worldwide by thousands of companies.
Commissioner Dawn of the NAPD vowed to bring those responsible to justice, and re-affirmed the government's commitment to using bioroids in law enforcement roles. "This is a tragedy," she told reporters early this morning. "But we stand behind all those who wear the NAPD badge."
It should be noted that any tampering, including adding after-market modifications, is illegal, as well as a clear violation of all warranties, terms of service, and end user agreements.
Haas-Bioroid is committed to improving the lives of individuals, and creating a safer world.
Community content is available under
CC-BY-SA
unless otherwise noted.