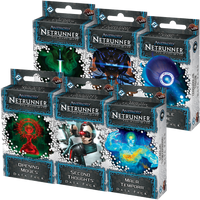 See also the List of cards in Spin and Spin category.
The Spin Cycle is the 2nd Cycle, released in 2013/2014 between the Creation and Control and Honor and Profit deluxe expansions.
The Spin Cycle explores the publicity aspect of the battle between Corps and Runners, which is reflected mechanically by a number of cards that give or cost the Corp Bad Publicity, or clear it. It also follows a specific story of the new Anarch Reina Roja's quest to reveal the unethical and dangerous experiments being done at the new Weyland Consortium division GRNDL's fracking platform, the GRNDL Refinery.
Bad Publicity is explored with deadly Illicit Ice for the Corp that costs Bad Publicity to rez, a power runner card that can only be played while the Corp has Bad Pub, and also Corp cards to clear Bad Pub, and Runner cards to give the Corp Bad Pub.
The Spin Cycle also introduced the Caissa chess-themed programs for Anarchs, and the Double subtype for Events and Operations.
List of Data Packs
Edit
The following Data Packs are in the Spin Cycle:
List of cards
Edit
Community content is available under
CC-BY-SA
unless otherwise noted.